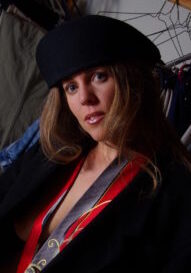 I grew up on a ranch in jabip Oregon milking goats, riding horses, driving tractors, and herding sheep. What did I know about human sexuality? Not much. (Too much making hay to do much "making hay"...so much for the fantasy of the farmer's daughter!)
Wasn't until I was about twenty-three that I began to learn a thing or two about a thing or two...mostly that what I thought I knew had nothing to do with anything (because the way we are all taught about sex is pathetic). Talk about disillusionment. That was a rude awakening, but an awakening (thank heavens) nonetheless...and the rest is history.
I've dedicated the rest of my life since then (I'm pushing 50 now!) to personal growth pivoting on sexual understanding with a real-life experiential approach (that means I walk this talk and know its challenges, and rewards, wholeheartedly).
Striving in my own life to access unencumbered sexuality, I've put theory to the test~ for six years in open relationship with a primary partner, six years as a salacious single, and for the past fourteen in a monogamous arrangement utilizing sex for deeper exploration, discovery and transformation.
Working as a stripper in the sex industry for the past fourteen years has also stretched my envelope, dramatically expanding and informing my perspective on sexual issues. (Actually, it was one of the main things that has pushed me to go public here, and in my book, Hot Blooded: a sexual resurrection.)
I've been a guest speaker for college-level Human Sexuality classes and an assistant facilitator for psychotherapy workshops.  I graduated summa cum laude with a Bachelor of Science in Evolutionary Biology, and have practiced as a licensed massage therapist for twenty-five years.
Incorporating the psychological, emotional, physical, and spiritual components of sexuality, my philosophy is applicable to all genders.